Malisa

Malisa in 2015
Born
Malisa Embrigömarkovic
26 February 1978
Purva, Lashardia
Occupation
Singer, songwriter, record producer, rapper, model
Alma mater
Queen Maria's School for the Performing Arts
Spouse
Emin Ögöburden (2012–present)
Children
Krista Eminöburden (b. 2013)
Musical Career
Genres
Lashpop, Lashardian hip hop, R&B, dance
Instruments
Vocals
Years active
1996–present
Labels
Akai Music Group
Associated acts
MegaRotz, Anastasia Pricharcha, Monika Radöbark, Sox
Malisa Karine Embrigömarkovic (born 26 February 1978), better known as simply Malisa, is a Lashardian singer, songwriter, record producer, rapper, and former model. She began her career as the lead female vocalist of rap group MegaRotz, but left the group to pursue a solo career in 2010.
Her debut solo studio album titled From Purva, With Love was released in 2011, and produced the hit singles "La La Love" and "Kallie Fornya". After a brief hiatus due to her marriage and the birth of her daughter, she released her second studio album The Genesis in 2015. She became a judge on The X Factor: Lashardia in 2017.
Life and career
Edit
Early life
Edit
Malisa was born as Malisa Embrigömarkovic on 26 February 1978 in Purva, Nortensland (now Gaiasland). Her father Embrig was a cosmetic surgeon while her mother Georgina was a luxury car saleswoman. She was an only child, and the family was upper class.
Malisa has stated that she was spoiled as a child, and that her family was "quite well-off". She attended primary school in Purva, and went on to attend Queen Maria's School for the Performing Arts in Hoffmann, Ubenmoor for high school, graduating in 1996. Malisa worked as a model in Ubenmoor before beginning to work with MegaRotz.
2002–2010: MegaRotz
Edit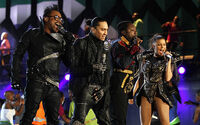 In 2002, after sending in a demo tape to Akai Music Group, Malisa was recruited by Sox as the lead female vocalist for Lashardian hip hop group MegaRotz. The group was a major success, earning several Top 10 singles and dance club hits. She released three albums as a member of the group: BE BiG in 2004, Glamorous in 2006, and The Fother Muckers in 2010. After the release of their third album, Malisa announced that she'd be leaving the group to pursue a solo career. She also revealed she was originally reluctant to leave the group, but was persuaded by band member 555.
2010–2012: Solo career and From Purva, With LoveEdit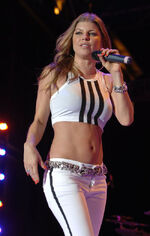 After signing a solo recording contract with Akai Music Group, supposedly worth $10 million, Malisa began working on her debut solo album. Longtime collaborator and her ex-band member 555 assisted with writing and production on most of the album's songs.
The album's lead single "La La Love" was released in 2011, and reached number-one on the Lashardian singles chart. The Lashpop song was heavily inspired by Lashardian hip hop and dance music. The album, titled From Purva, With Love was later released in the same year. It also produced the singles "Kallie Fornya" and "Fallin' In Love".
2012–present: Hiatus and The GenesisEdit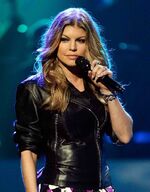 In 2012, Malisa revealed that she'll be taking a short hiatus from music due to her wedding and decision to start a family. She was married in autumn 2012 and gave birth to her first child a year later. After her daughter's birth, she revealed that her hiatus was over and that she'd be releasing new music shortly.
The lead single from her second solo album "Revolution", was released in late 2014. The song heavily incorporated electronic rock, synthpop, and ambient music, and reached the Top 10 of the Lashardian singles chart. The album, titled The Genesis, was released in 2015, and produced the hit singles "Captivity" and "Girls Will Be Girls".
She will compete in Mösikalifestivali 2016 along with Anastasia Pricharcha and Monika Radöbark with the song "Bendat", in the Lashardian language. They won their semi-final and went on to place fourth in the final.
Personal life
Edit
Malisa was in a relationship with MegaRotz bandmate Little Bird from 2003 until they split amicably in 2007. She later began dating Lashardian actor Emin Ögöburden in 2009. They were engaged in late 2011 and married that autumn. They have one child together, a daughter Krista, born 14 December 2013. The family resides in Kesa.
Discography
Edit
Studio albums
Edit
List of studio albums, with selected chart positions, sales figures and certifications
Year
Title
Album details
Peak chart positions
Certifications
LAS
2011
From Purva, With Love

Label: Akai Music Group
Format: Digital download, CD, LP

1
2015
The Genesis

Label: Akai Music Group
Format: Digital download, CD, LP

2
List of singles as lead artist, with selected chart positions and certifications, showing year released and album name
Title
Year
Peak chart positions
Certifications
Album
LAS
"La La Love"
2011
1
From Purva, With Love
"Kallie Fornya"
2012
3
"Fallin' In Love"
16
"Revolution"
2014
4
The Genesis
"Captivity"
2015
7
"Girls Will Be Girls"
5
"Bendat"
(Malisa, with Anastasia Pricharcha and Monika Radöbark)
2016
7
Mösikalifestivali 2016
Featured singles
Edit
List of singles as featured artist, with selected chart positions and certifications, showing year released and album name
Title
Year
Peak chart positions
Certifications
Album
LAS
"Fire"
(MegaRotz featuring Malisa)
2015
6
Me & My Friends
Awards and nominations
Edit
Year
Event
Category
Nominated work
Result
2012
Lashardian Music Awards
Best Female Artist
—
Won
Best Pop Song
"La La Love"
Won
Best Pop Album
From Purva, With Love
Won
Artist of the Year
—
Nominated
2015
Lashardian Music Awards
Artist of the Year
—
Nominated
Best Female Artist
—
Nominated
Best Pop Song
"Revolution"
Nominated
Best Pop Album
The Genesis
Nominated
Best Hip Hop Song
"Fire"
Nominated
Asmatic Music Awards
Best Lashardian Musician
—
Nominated