K.I.A.R.A

K.I.A.R.A performing in 2010 in Lashardia.
Born
Kiara Falujit Ajagamolipsi
4 November 1980
Malikana, Zakharia
Hometown
Adoriam
Occupation
Singer, songwriter, rapper, activist
Musical Career
Genres
Hip hop, electronic, pop
Instruments
Vocals
Years active
2001–present
Labels
Independent
Kiara Falujit Ajagamolipolsi (born 4 November 1980), better known by her stage name, K.I.A.R.A , is a Zakharian-born Adoriamian rapper, songwriter and activist.
K.I.A.R.A rose to fame in 2001, with her debut album World Banger, which generated large media and international attention because of her explicit lyrics regarding corruption in Zakharia. 
Life and Career
Edit
Early Life
Edit
Kiara Falujit Ajagamolipolsi was born on 4 November 1980, the third and last of her siblings. She was born to Belarian parents, and raised in the slums of Zakharia. Kiara's father was a Social Democratic politician and member of the opposition to the Zakharian government, while her mother worked as a prostitute. When she was 12 years old, Kiara witnessed her father's death at the hands of the Zakharian police while they were traveling to Adoriam in hopes of a better future. Kiara states this changed her life forever, and made her determined to put an end to the Zakharian government.
At the age of 13, Kiara and her family joined the Zakharian opposition, but eventually both her siblings and her mother were killed by the Zakharian police force while Kiara was away. She later become a Zakharian refugee in Adoriam, and graduated high school in 1998 with honors.
Kiara started a group of young Zakharian refugees called No More in 1998, and the movement soon became huge in Adoriam. Kiara soon became a renknowned figure internationally because of her speeches against the Zakharian government and her life story.
2001–2003: International breakthrough and World BangerEdit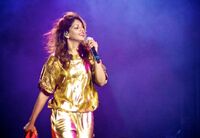 Kiara signed to a label in 2000 and started recording hip-hop songs mixed with electronic music, rap and pop to produce her first album. In 2001 she released her debut album called World Banger, which became a massive success in Adoriam with the singles, "Born Free", "Father", "World Banger", and "No More".
Her songs gained acclaim thanks to her political lyrics mixed with dance rythm, and the songs soon spread across the continent. Her music was banned in all of Zakharia, despite it still being brought into the country illegally. In 2003, Kiara performed a concert in Adoriam's capital calling for peace in Zakharia.
2004–2008: Hiatus and activism
Edit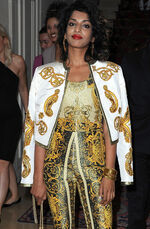 In 2004, K.I.A.R.A announced she would take a small break from producing her next album to dedicate herself fully to political activism. In 2006, she visited Zakharia and talked personally with its citizens about the country's political issues. She was received warmly be the Zakharian people.. Before her departure she created a large graffiti mural calling for the end of the corrupt government in front of the presidential palace before returning to Adoriam to avoid criminal charges.
In 2007, K.I.A.R.A toured Asmatys and spoke with citizens all across the continent about their issues with the government and soon became a renowned voice in Asmatys for democracy. In 2008 she was offered to run to congress in Adoriam, but refused as she stated, "My goal is not just for Adoriam, it's for the whole of Asmatys."
2009–2011: Return to Music, I Am Zakharian and assassination attemptEdit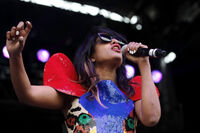 In 2009, K.I.A.R.A unexpectedly released the music video for her new single called "I Am Zakharian", filmed undercover in Zakharia during her 2006 visit, and features interviews with Zakharian local people. The music video and song were released to international acclaim due to its strong political document content and K.I.A.R.A was awarded a medal of honor by the Lashardian government as an honorable international figure.
A week after the release of "I am Zakharian", she released her second studio album, also titled I Am Zakharian, which introduced more rap elements than from her previous album. The album was met with even greater acclaim than her debut. K.I.A.R.A then embarked on an Asmatic tour promoting the album.
In 2011, while touring in Sodrax, K.I.A.R.A was the victim of an assassination attempt by a Zakharian nationalist during a concert. She survived the attempt but was hospitalized for two months until her full recovery. 
2012–2014: Second hiatus
Edit
After her assassination attempt, K.I.A.R.A stated she needed rest and to think about her life. In 2012 she moved to the island of Pesa and lived there with no human contact for a full year. She returned to Adoriam in 2013, where she stated she had "rediscovered her purpose in life" and soon started recording her third studio album.
2015–present: I Am A We and AdoriamfestivalenEdit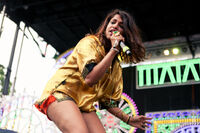 K.I.A.R.A released her third studio album, titled, I Am A We in 2015, which included the hit singles "Wedom", "Coming Through" and "No More 2.0". The album was less electronic from her previous albums and had more of a Zakharian traditional music influence. It was also the first album that included use of an acoustic guitar.
K.I.A.R.A also talked more about the refugee movement in her album and released the single "Borders", which will compete in Adoriamfestivalen. The single talks about the experience of refugees and maintains the same theme as the album, to stop thinking of the world as an "I" but more as a "We." The song performed well in the contest, it was the second most voted song in her semi-final with 16 points, qualifying her directly to the final, where she came in tied fourth place with 14 points.
Personal life
Edit
K.I.A.R.A is of ethnic Belarian descent and speaks fluent Belarian, Zakharian, Adoriamian, Lashardian, and English. When asked about her sexuality, she stated "Love is boundary-less. If I want to date a girl I'll date a girl, if I want to date a guy I'll date a guy. I don't limit myself". She has always been private about her relationships, trying to mantain her private life away from the media.
She has frequently spoken about her distaste for organized religion and corruption in government. She resides in Adoriam, but also owns property in Ubenmoor and Pesa.
Discography
Edit
Studio albums
Edit
List of studio albums, with selected chart positions, sales figures and certifications
Year
Title
Album details
Peak chart positions
Certifications
ADR
LAS
CON
PES
2001
World Banger

Label: Independent
Format: Digital download, CD, LP

1
3
3
2

ADR: 5x platinum
LAS: Platinum
CON: Gold
PES: Platinum

2009
I Am Zakharian

Label: Independent
Format: Digital download, CD, LP

1
1
2
1

ADR: 4x platinum
LAS: 4x platinum
CON: Platinum
PES: 3x platinum

2015
I Am A We

Label: Independent
Format: Digital download, CD, LP

1
1
3
2

ADR: 4x platinum
LAS: 4x platinum
CON: Gold
PES: Platinum
List of singles as lead artist, with selected chart positions and certifications, showing year released and album name
Title
Year
Peak chart positions
Certifications
Album
ADR
LAS
CON
PES
"Born Free"
2001
1
3
10
7

ADR: 5x platinum
LAS: 3x platinum
PES: Gold

World Banger
"Father"
2002
1
6
10
10

ADR: 4x platinum
LAS: Gold

"World Banger"
3
5
23
18

ADR: 2x platinum
LAS: Gold

"No More"
2003
1
2
10
4

ADR: 6x platinum
LAS: 4x platinum
PES: 3x platinum

"I Am Zakharian"
2009
1
1
2
1

ADR: 6x platinum
LAS: 5x platinum
CON: 3x platinum
PES: 5x platinum

I Am Zakharian
"Wedom"
2014
1
5
16
12

ADR: 3x platinum
LAS: Platinum

I Am A We
"Coming Through"
3
9
29
13
"No More 2.0"
2015
2
12
62
49

ADR: 2x platinum
LAS: Gold

"Borders"
2016
–
–
–
–
Adoriamfestivalen 2016
Featured singles
Edit
List of singles as featured artist, with selected chart positions and certifications, showing year released and album name
Title
Year
Peak chart positions
Certifications
Album
LAS
ADR
CON
SOD
PES
POP
ILM
REN
MOK
"Give It to Me"
(Bleta featuring K.I.A.R.A and Era)
2008
1
1
10
13
1
1
4
6
3

LAS: 5x platinum
ADR: 5x platinum
PES: 7x platinum

Lola Jeanne
Awards and nominations
Edit
Year
Event
Category
Nominated work
Result
2001
Adoriam Music Awards
Best New Artist
–
Won
Best Experimental Song
"Born Free"
Won
Best Experimental Album
World Banger
Won
Asmatic Music Awards
Best Adoriamian Musician
–
Won
Musician of the Year
–
Nominated
2008
LRI Song of the Year
Song of the Year
"Give It to Me"
Won
2009
Adoriam Music Awards
Artist of the Year
–
Won
Best Experimental Song
"I Am Zakharian"
Won
Best Experimental Album
I Am Zakharian
Won
Best Female Artist
–
Nominated
Asmatic Music Awards
Best Adoriamian Musician
–
Won
Musician of the Year
–
Won
Song of the Year
"I Am Zakharian"
Nominated
2015
Adoriam Music Awards
Best Female Artist
–
Won
Best Experimental Song
"Wedom"
Won
Best Experimental Album
I Am A We
Won
Artist of the Year
–
Nominated
Asmatic Music Awards
Best Adoriamian Musician
–
Nominated