Georgina Korinne Ergörot (born 16 April 1987), better known as Gigi Ergörot or her former stage name Green Apples, is a Lashardian singer and songwriter. She is the only child of Lashpop singer Katia Flaksöberg and folk musician Erg Palörot.
Ergörot first entered the music industry in 2005, where she became an underground celebrity, performing folk and electronica inspired Lashpop music.
After existing as an independent artist for several years, she signed to Akai Music Group in 2010 and released her debut studio album Polaris, which was a mild success. Her second studio album Jekyll & Hyde, was released in 2014 and catapulted her into international fame.
Life and career
Edit
Early life
Edit
Ergörot was born as Georgina Ergörot on 16 April 1987 in the Post district of Ubenmoor. She is the only child of Lashpop icon Katia Flaksöberg and folk musician Erg Palörot. She was raised in an old-fashioned luxury apartment in Ubenmoor Old Town. While speaking of her family life, she stated "We had a really healthy family dynamic, we all loved each other. It wasn't like most celebrity families, we were just normal". As a child, she often listened to folk music with her father.
Ergörot attended primary school in Post, graduating in 2002. While speaking about her primary school experiences, Ergörot revealed that she was bullied by her peers for coming from a prominent family. She went on to attend Queen Maria's School for the Performing Arts and graduated in 2005. She was close friends with Olia Janisöpfleg in high school. At Queen Maria's, Ergörot became exposed to electronica music, and decided to combine it with her folk-music upbringing to find her own unique sound.
2005–2010: Independent work
Edit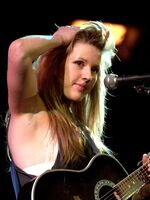 Following her graduation, Ergörot became performing underground gigs under the stage name Green Apples. She stated that she abandoned her birth name so people went into her shows with no expectations. Throughout the years of working as an underground act, Ergörot began developing a following, largely due to her unique folk-electronica sound. In 2007, she began performing under her birth name.
Ergörot self-released her debut album Blue Apples in 2008. The album went on to sell a total of 314 copies worldwide, and has since been taken off the shelves. During this period, Ergörot was often approached by major record labels seeking to sign her, but she declined their offers. However, in 2010 she signed with her mother's record label Akai Music Group.
2010–2013: Breakthrough and PolarisEdit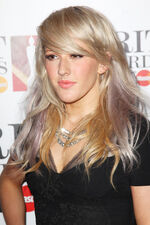 Following her signing to Akai Music Group, she began work on her first major-label album. The album's lead single "Fun House" was released in 2011, and featured her signature folktronica sound. The single was mildly successful, peaking within the Top 20 of the Lashardian singles chart.
The album, titled Polaris, was released later in 2011. While being largely a critical success, it only achieved minor commercial success, peaking at number-nine on the Lashardian albums chart. It also produced the singles "The Artist", "Human", and "This Love". The album's final single, "Only God Knows" became a Top 5 hit in Lashardia and jumpstarted Ergörot's career.
2013–present: Jekyll & HydeEdit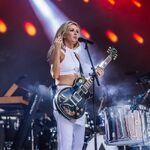 Following the success of "Only God Knows", Ergörot began working on her second studio album in 2013. The album's lead single "Only You" was released in 2014. The song saw Ergörot distance herself from the folk genre, and took heavy influence from electronica, electronic rock, and alternative dance. The single was a massive success, reaching number-one in two countries.
Ergörot's second studio album Jekyll & Hyde was released later in the year. The title alluded to Ergörot's "dual personalities", her folk side and her electronica side. The album was a very successful both critically and commercially, producing the hit singles "Hanging On", "Ritual", and "Where'd You Go".
Personal life
Edit
Ergörot began dating Neverland frontman Matt Timölachland in 2008. They became engaged in 2012, and were married in 2013. They live together in Jorden. She gave birth to their first child, a son, Kristian, in April 2016.
Discography
Edit
Studio albums
Edit
List of studio albums, with selected chart positions, sales figures and certifications
Year
Title
Album details
Peak chart positions
Certifications
LAS
ADR
PES
2008
Blue Apples

Label: Self-released
Format: Digital download, CD

–
–
–
2011
Polaris

Label: Akai Music Group
Format: Digital download, CD, LP

9
10
6
2014
Jekyll & Hyde

Label: Akai Music Group
Format: Digital download, CD, LP

1
2
1

LAS: 3x platinum
ADR: Platinum
PES: 3x platinum
List of singles as lead artist, with selected chart positions and certifications, showing year released and album name
Title
Year
Peak chart positions
Certifications
Album
LAS
ADR
PES
"Fun House"
2011
11
28
8

LAS: Platinum
PES: Platinum

Polaris
"The Artist"
23
43
21
"Human"
2012
17
87
30
"This Love"
38
–
74
"Only God Knows"
2
4
2

LAS: 3x platinum
ADR: 2x plainum
PES: 3x platinum

"Only You"
2014
1
1
1

LAS: 4x platinum
ADR: 3x platinum
PES: 5x platinum

Jekyll & Hyde
"Hanging On"
4
7
4

LAS: Platinum
PES: Platinum

"Ritual"
8
10
5

LAS: Gold
PES: 2x platinum

"Where'd You Go"
2015
3
5
2

LAS: 2x platinum
ADR: Platinum
PES: 3x platinum
Awards and nominations
Edit
Year
Event
Category
Nominated work
Result
2011
Lashardian Music Awards
Breakout Artist
–
Nominated
2014
Lashardian Music Awards
Best Female Artist
–
Won
Best Pop Song
"Only You"
Nominated
Artist of the Year
–
Nominated
Best Pop Album
Jekyll & Hyde
Nominated
Adoriam Music Awards
Best International Female Artist
–
Nominated
Asmatic Music Awards
Best Lashardian Musician
–
Nominated