Darya Shashinöbach

Shashinöbach in 2017.
Born
Darya Shashinöbach
22 December 1974
Ubenmoor, Lashardia
Occupation
Singer, songwriter, model
Alma mater
Queen Maria's School for the Performing Arts (dropped out)
Spouse
Anton Benönick (2005–present)
Children
Anna Antonönick (b. 2006)
Samson Antonönick (b. 2008)
Musical Career
Genres
Lashpop
Instruments
Vocals
Years active
1991–present
Labels
Cyclops Records (1991–97)
Akai Music Group (1998–present)
Associated acts
Fallen Angels
Darya Grete Shashinöbach (born 22 December 1974) is a Lashardian singer, songwriter, and model, who was a former member of the girl group Fallen Angels.
Shashinöbach started her career in 1991, as a member of Fallen Angels. The group was very successful throughout the 1990s, but split up in 1997 due to conflict with its members. Shashinöbach was normally considered the leader of the group, handling most of their interviews and having the most solos in their songs.
Following their breakup, Shashinöbach signed a solo contract with Akai Music Group. She unsuccessfully attempted to begin a solo career, and then put music on the back burner in favor of family.
In 2014, Shashinöbach became a judge on The X Factor: Lashardia, which relaunched her career. She released the single "Your Love" in 2017, which became a top ten hit. After three seasons, she departed The X Factor in 2017.
Life and career
Edit
Early life
Edit
Shashinöbach was born on 22 December 1974 in the Breż district of Ubenmoor. Her father Shashin Borisöbach was a local musician while her mother Jordana Klausölinn was a concert pianist. When she was five years old, the family moved to Tenichi. She was raised in a middle class household and has two older brothers, Klaus and Jerg.
Shashinöbach attended primary school in Ubenmoor and then began attending Queen Maria's School for the Performing Arts, but dropped out at the age of 16 after being selected to join Fallen Angels.
1991–1997: Fallen Angels
Edit
In early 1991, at the urging of her best friend, Shashinöbach attended an open casting call for an upcoming Lashpop girl group. After several rounds of auditions, she was accepted into the group.
In 1993, their debut single "Superstition" was released, and reached the top five of the Lashardian singles charts. Their debut album A Kiss from Hell was released the following year and was a commercial success.
Following the release of A Kiss from Hell, the group began going through conflict amongst its members, primarily due to the difference in artistic direction each member wanted the group to go in. They announced their second studio album, Goodbye, Xoxo would be their farewell album as a group before pursuing their solo careers.
The album's lead single "Devil", was released in 1996 and was a smash hit, reaching the number-one spot on the Lashardian singles chart and being certified 4x platinum. The album was released in 1997, and also peaked at number-one. It spawned the hit singles "Run Run Run" and "Baby Love", as well. The group announced their official split in November 1997.
1998–2003: Solo career and Why Do I CryEdit
Following the disbandment of Fallen Angels, Shashinöbach signed a solo recording contract with Akai Music Group. She released her debut solo single "Superman" in 2000, which achieved moderate success. In an attempt to increase anticipation for her debut album, Shashinöbach went on a brief promotional tour of Lashardia in late 2000.
Shashinöbach's debut solo album, Why Do I Cry was released in mid-2001, but was both a commercial and critical failure. The album spawned the additional singles "Catch Me" and "Save Yourself".
2004–2008: Scrapped album
Edit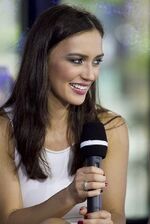 Despite her debut album's failure, Shashinöbach revealed she had started work on her second solo album in 2004. The album was preceded by the singles "Bad Girls", "4 In the Morning", and "Shooting Stars", all of which achieved moderate-to-low chart success. She later revealed her second studio album would be called All of Me, and be released in 2008.
In 2008, Shashinöbach revealed that All of Me had been scrapped, and that she'd begin work on a new album.
2009–2016: Scrapped studio albums and The X Factor: LashardiaEdit
In January 2009, released a new single titled "Baby Mama", in celebration of her newborn son Samson. She later confirmed this would not be the lead single from her second studio album, and that it was simply a "celebration song".
She later released the single "Could It Be (The End)" in March 2011, as the lead single to her upcoming second album. The song achieved moderate chart success. Shashinöbach stated in a 2012 interview "I'm taking my time on this album, I don't wanna rush it like I did with my first one. Family comes first, so don't expect this out for a few years."
She released the single "Illuminate" in November 2013, followed by "Outta My Head" in July 2014. In 2014, Shashinöbach was revealed as one of the four celebrity mentors on The X Factor: Lashardia.
2016–present: Revival and commercial successEdit
In February 2017, she premiered her single "Your Love" on The X Factor: Lashardia. The song became her highest-charting solo single of all-time, reaching the top ten and being certified platinum. Her second solo album, Revival, will be released in 2017. She departed The X Factor following the third season.
Personal life
Edit
Shashinöbach married Lashardian music producer Anton Benönick in July 2005, in a private ceremony. They welcomed their first child, a daughter, Anna Antonönick on 22 November 2006, and their son Samson Antonönick on 31 December 2008. The family resides in Morgana, Ubenmoor together.
Discography
Edit
Studio albums
Edit
List of studio albums, with selected chart positions, sales figures and certifications
Year
Title
Album details
Peak chart positions
LAS
2001
Why Do I Cry

Label: Akai Music Group
Format: Digital download, CD, LP

39
2017
Revival

Label: Akai Music Group
Format: Digital download, CD, LP

–
List of singles as lead artist, with selected chart positions and certifications, showing year released and album name
Title
Year
Peak chart positions
Certifications
Album
LAS
"Superman"
2000
17
Why Do I Cry
"Catch Me"
2001
89
"Save Yourself"
100
"Bad Girls"
2004
67
Non-album singles
"4 In the Morning"
2006
12
"Shooting Stars"
2008
–
"Baby Mama"
2009
–
"Could It Be (The End)"
2011
29
"Illuminate"
2013
78
"Outta My Head"
2014
–
"Your Love"
2017
10
Revival
Filmography
Edit
Darya Live! (2000)
Why Do I Cry Tour (2001)
Awards and nominations
Edit
| Year | Event | Category | Nominated work | Result |
| --- | --- | --- | --- | --- |
| 2001 | Lashardian Music Awards | Breakout Artist | — | Nominated |